For a while now I have been running my Windows Home Server (WHS) from an old Dell Dimension 4700 I had lying around the house. The machine has performed like a treat, but boy was it noisy.
So when I heard on an episode of Windows Weekly that Shuttle had brought out a low noise and power case called a KPC I was happy as Larry but wondered if they would work as a home server. Enter Donavon West's Home Server Hacks site and an excellent four part guide to using a KPC as a WHS.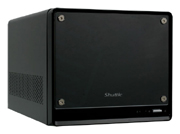 Unfortunately the cases themselves have taken an age to get down to Australia, but about two weeks ago they made an appearance. Thanks to the wonders of StaticIce, I purchased one along with some other bits and pieces and low and behold my new Home Server was born.
All in the all the server cost my about 400 bucks to build without the Windows Home Server which I already had:
| | |
| --- | --- |
| Component | Cost (AUD) |
| Shuttle KPC K45 Barebones Case | $149 |
| Pentium D2180 processor | $79 |
| Samsung 750Gig SATA Hard Drive | $139 |
| 2 GB Corsair Memory | $49 |
| Grant Total | $416 |
Once the server was built, I needed to get Home Server installed on it. Donavon's excellent tutorial included a step by step guide to setting up a USB memory key to be bootable for installing Windows Home Server, so off to ALDI I went to buy a 2 gig key for $20! It turns out not only are the 2 gig Transcend keys they are selling excellent value, but they are also ReadyBoost compatible so you can speed up your Vista installation as well (as I have been on my work laptop).
So now the server is up and running and I have to admit, looking pretty damn cool on my desk.
Now the waiting game starts, I am running x64 Vista at home, whilst it doesn't rule out using the WHS Connector software, it does stop me backing the machine using WHS until the native x64 connector is released with WHS Power Pack 1 that is due out in Beta in the next week or so. Stay Tuned!